18.07.2019 – 16:15
Presentation of the ERC research project "Suspended Life: Exploring Cryopreservation Practices in Contemporary Societies" (CRYOSOCIETIES)
PEG 1.G107, Campus Westend, University of Frankfurt:
The project team (Thomas Lemke, Veit Braun, Sara Lafuente) will present some ideas and central theses from the CRYOSOCIETIES project. The project proposes to investigate the collection, storage and usage of human and non-human organic material by technologies of cooling and freezing, what are known as cryotechnologies. The talk will introduce the three case studies — cord blood banking with the promise to store vitality and ensure health, oocyte freezing to extend fertility and rearrange reproductive futures and the reproduction of whole species in so-called frozen zoos — as well as the conceptual framework of the project, highlighting the significance of cryopreservation for contemporary societies.
05.12.2019 – 16:15
Guest Lecture: Joanna Radin on "Cosmologies of Cold"
PEG-building, room 1.G107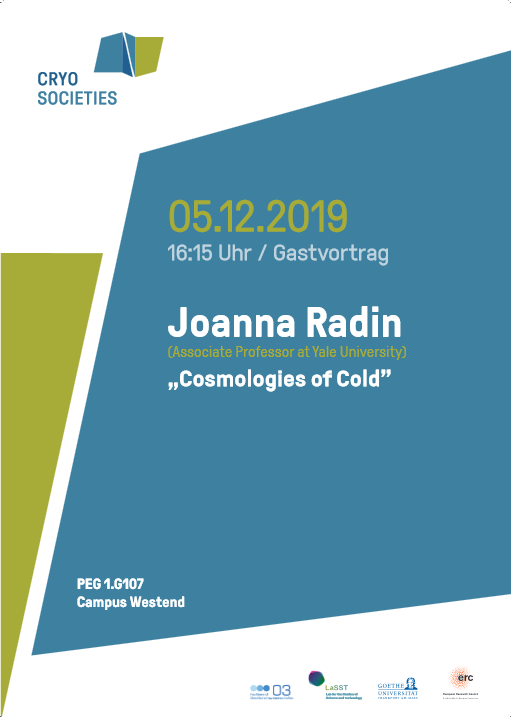 Cryopreservation practices are an essential dimension of contemporary life sciences. They make possible the freezing and storage of cells, tissues and other organic materials at very low temperatures and their subsequent thawing at a future date without apparent loss of vitality.
We are particularly excited to welcome Joanna Radin from Yale University here in Frankfurt. Joanna Radin has generated unique and groundbreaking analytical insights into the modalities and implications of freezing technologies and 'cryopolitics'. Her talk will address "Cosmologies of Cold", sharing with us some of her internationally renowned research expertise in the realm of cryopreservation.